Escape to Prison: Penal Tourism and the Pull of Punishment
Buy this book from University of California Press
Summary || Table of Contents || Reviews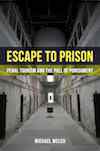 Welch, Michael (2015) Escape to Prison: Penal Tourism & the Pull of Punishment. Berkeley: University of California Press.
The resurrection of former prisons as museums has caught the attention of tourists along with scholars interested in studying what is known as dark tourism. Unsurprisingly, due to their grim subject matter, prison museums tend to invert the "Disney" experience, becoming the antithesis of the "happiest place on earth." In Escape to Prison, the culmination of years of international research, noted criminologist Michael Welch explores ten prison museums on six continents, examining the complex interplay between culture and punishment. From Alcatraz to the Argentine Penitentiary, museums constructed on the former locations of surveillance, torture, colonial control, and possibly even rehabilitation tell unique tales about the economic, political, religious, and scientific roots of each site's historical relationship to punishment.
Chapter 1: A Penal Tourism
Chapter 2: The Museum Effect
Chapter 3: Dream of Order
Chapter 4: Architecture Parlante
Chapter 5: Religion and Governance
Chapter 6: Work and Economics
Chapter 7: Suffering and Science
Chapter 8: Colonialism and Resistance
Chapter 9: Memorialization
Chapter 10: Cultural Power
"A steady trickle of journal articles has long hinted at the potential of the prison museum as a research site. Michael Welch's Escape to Prison redeems that promise in full. The book deftly combines cultural sociology, tourism studies and penology with an impressively global comparative case study method. Welch shows the prison museum to be a deeply meaningful artifact that can, when at its best, sustain complex meditations on power, identity, modernity and dignity. This book is a comprehensive and definitive statement, a milestone that will immediately define its field as the shared point of reference."
-- Philip Smith, Professor of Sociology, Yale University, author of Culture and Punishment
In Escape to Prison Michael Welch produced a veritable tour de force! From country to country, from city to city, from prison to prison, Michael reconstructed an arresting survey of the "modern" form of punishment, showing the amazing similarities of prison institutions located in the most diverse countries and yet at the same time their subtle differences. And, in all, the stupefying mixture of the modern and the sacred. A "must" read for the penal tourist and the scholar of punishment alike!"
-- Dario Melossi, Editor in Chief of Punishment and Society
"This volume serves as a critical travelogue in the cultural sociology of punishment. The author takes us on a series of international prison tours, themed to a set of sociological issues and theoretical perspectives, in order to display the cultural power of punishment. Relying heavily upon a Durkheimian and Foucaultian theoretical backdrop, the author illuminates the rise in prison tourism through the lenses of dark tourism. Michael Welch has innovatively pursued this goal through historically driven comparative work and a geographic span of sites that is quite remarkable."
-- Michelle Brown, author of The Culture of Punishment: Prison, Society and Spectacle
Michael Welch's illustrious career as a visiting professor in various parts of the world has enabled him to study 10 prison museums and now to make an original and (in the best sense of the term) entertaining contribution to the sociology of punishment.
One very impressive feature of this book is the way Welch has mastered this literature, as well as the tourism and leisure literature more generally. He then takes in museum studies, and combines all this with a phenomenological perspective derived from Durkheim and Foucault, with due nods along the way to Phillip Smith and David Garland. For the foreseeable future, a better, more scholarly and more illuminating book on prison museums would be hard to imagine.
-- Mike Nellis, Law School, University of Strathclyde, Scotland, in British Journal of Criminology
Since 2000, when Lennon and Foley coined the term dark tourism, numerous edited collections on the phenomenon have appeared, but no single author has yet undertaken such a wide survey. This means that Welch can subject his case studies to a single synthetic analysis, which involves his blend of Foucauldian understandings of power and governance mixed with Durkheim's reading of semiotics. Unlike some criminologists, who feel it necessary to declare their colors for one penal theorist or the other, Welch reprises in each chapter the utility of his integrated approach, which he uses effectively to capture the complex narratives of prison history museums (p. 4).
Welch wisely avoided the temptation to devote his chapters, ten in all, to each of the prisons he analyses. This is where the theoretical sophistication of the book shines brightest. From the introduction he skilfully laces his analytical points with references to particular prisons.
In each chapter Welch springs back and forth from the local to the general, reinforcing his argument that every prison museum tells a parochial story of this city, this nation; simultaneously they all give shape to the wider dreams and nightmares of modernity. The didactic ethos of prison museums is loaded with a memorial imperative and a sacred ambience, unique to this tourist experience of specific localities. At Johannesburg's Old Fort, Welch argues, a familiar script of repression, corporal punishment, and humiliation is delivered, but the towering figures connected to the anti-Apartheid movement make the site distinctly South African and a symbol of a racist regime that ultimately folded before the successful struggle for justice and equality (p. 215).
Welch reveals his own didactic project in his last lines. The prison history tourist is witness to one of modernity's grandest failed designs conjured to overcome the unenlightened past. Former prisons are ruins, evidence of the death of an institution as well as its ambitions he declares (p. 263). Surely the prison museum must prove the inhumanity of imprisonment. Yet, there is no indication, certainly not in the countries covered in this book that our appetite for prison building has dulled.
---- Carolyn Strange, Australian National University in International Criminal Justice Review
For the last two decades or so, punishment and society scholars have focused most of their energies on American mass incarceration - the policies that gave birth to and now sustain it, its collateral consequences, and now its (possibly) impending demise. In a refreshing move away from this nearly single-minded emphasis, Michael Welch shifts our penal gaze to the place of prison in society and especially culture. Expanding the fissure created by Philip Smith (2008), Michelle Brown (2009), and others' earlier works on punishment and culture, Escape to Prison is a "carceral travelogue of sorts" (p. 249) centering on prison museums. Breaking with our American-centric inclination, this travelogue spans several continents and includes prisons in South Africa, South Korea, China, Australia, Argentina, the United Kingdom, and the United States. This diversity allows Welch to explore museums that document incarceration in a variety of socio-historical contexts, including dictatorial, apartheid, colonial, and post-colonial regimes spanning several hundred years (and more in one case). He explores each of these museums through different lenses - including architecture, governance, religion, labor, science, colonialism, and memorialization - as organizing themes of the prison museums and the prisons themselves
The book's focal point, developed in Chapter 2, is the "museum effect: the overall impact that [museums] have on tourists, society, and culture" (p. 23). Welch focuses especially on the pedagogical lessons museumgoers learn through their interaction with or experience of the museum's objects, images, and space (p. 4). The museum effect is the primary force of prison museum's cultural power. As Welch explains, "cultural power plays a crucial role in prison museums. It is through the transmission of meaning that such sites educate, enlighten, and, in some instances, even civilize visitors" (p. 9). For this effect, however, museums must reconcile entertainment with authenticity and pedagogy, simultaneously pulling tourists in through morbid fascination while imparting to them historical lessons and social critique. Through a thick description of museum exhibits, activities, and spatial layouts, Welch explores how curators construct messages for their audience while relying on "the cultural pull of punishment" to maintain their interest.
Throughout the analysis, Welch combines Durkheimian and Foucauldian approaches to examine prison museums' "cultural power" and messaging capacity. He relies upon Durkheim's semiotic concepts, including the sacred, pollution, purification, and the cult of the individual, and Foucault's power - based focus on discipline, surveillance, architecturally created order, technology, and expert knowledge.
Escape to Prison, however, is as much a work of prison history as it is one of cultural sociology. For each prison museum explored, the book reviews both the site's past as a functioning prison as well as its present as a prison museum. Although history is interwoven throughout the book, it is particularly strong in Chapter 4. This chapter develops the concept of "architecture parlante" (literally, "speaking architecture"), or the message displayed through architecture (p. 79). An example of this dynamic is the castl - like fac.ade of Eastern State Penitentiary: "people know it's a prison because it looks like a prison"(p. 80).
Escape to Prison weaves together a critique of modernity. Recognizing penal tourism as a kind of "dark tourism" - travel to sites of suffering - Welch draws on museum studies' expectation that dark tourism encourages critical reflection on the elements of modernity. For example, by displaying technologies designed to perfect suffering, prison museums encourage visitors to question the extent to which science, technology, and expertise have generated progress and humane treatment
Ultimately, Escape to Prison is a stimulating work on an interesting topic (prison museums!) that extends our understanding of Durkheimian and Foucauldian concepts and analyses. It demonstrates how elements of popular culture, drawing on penal history and contemporary practice, can convey messages about society, while using our past to interrogate our present. It will be a particularly useful volume as we expand our cultural analyses of punishment and extend our gaze beyond current practices to the cultural presentations of punishment
-- Ashley T Rubin, University of Toronto, Canada, in Punishment & Society
Michael Welch's Escape to brings a criminologist's focus to prison museums and the roles they play in constructing cultural understandings of crime and punishment. [His] criminological perspectives provides new tools to explore the interplay of public memory and public policy,and imagine alternatives. Welch does not dispute dark tourism; he is making a different intervention. Welch cares about contemporary prisons and punishment first. He says he literally stumbled into the world of museum studies when he began visiting prison museums during the off-hours of his academic travels. He came to believe that these sites were critical spaces for understanding how people come to learn and think about punishment. In Escape to Prison, Welch invites those concerned with contemporary criminal justice policy to take prison museums seriously and gives them the tools to read these sites and their implications. For them, he demonstrates how sites of penal tourism can enhance understanding of the role of culture in penal practices, developing an emerging cultural sociology of punishment. Welch describes his analysis of prison museums as a marriage of Michel Foucault and Emile Durkheim, bringing together theories of power with semiotics. -- Liz Sevcenko in American Quarterly
Escape to Prison is an invaluable contribution to cultural criminology because it studies each prison museum in the context of their respective cultures and provides connections between dark tourism and the history of punishment across the globe.
The influence of positivism and science found in the history of prisons is also discussed. Human suffering, pain, and experimentation are found at each museum. From the instruments of torture on display at the Clink museum to the physics of hanging discussed at the Melbourne Gaol, the convicts' suffering is rationalized through the quest for scientific knowledge.
Further, connections are drawn from dark tourism and cultural criminology to illustrate both entertainment and repulsion found in the histories of prisons that sanitize suffering by using the terms scientific knowledge and colonialism, and excusing actions by calling them humane progression in an evolved world. Through the exhibits, tourists learn about the rise of colonial authority, forms of resistance, and alternative ideas of rehabilitation found in the prison.
Escape to Prison is an effective tool for examining the cultural power of punishment over time. Each prison tour provides an experience of power and authority that continues to govern the visitor as it once governed those it incarcerated. Prison tours from Alcatraz to the Argentine Penitentiary included in this book provide an invaluable critical contribution to the growth of cultural criminology and dark tourism literature that critiques forms of governance consumed today.
-- Lindsey L. Upton, Journal of Qualitative Criminal Justice and Criminology
The ways in which former prisons are presented to the public and the particular fascination they hold in the popular imagination are examined by the criminologist Michael Welch in his book Escape to Prison: Penal Tourism and the Pull of Punishment, in which he explores ten prison museums scattered across Africa, Asia, Australia, Europe and North and South America, in what he describes as a "carceral travelogue."
Some, such as the Seodaemun Prison History Hall in Seoul, South Korea, provide visitors with a form of "penal spectatorship"; they are invited not only to gaze a spectacles of pain and suffering but also endure a "virtual torture session." Another, Melbourne Gaol, offers visitors lessons in the mechanics of lethal punishment, displaying a calculation table of rope measurements for hanging.
Others have been reinvented as heritage sites that honour famous political prisoners committed to noble causes. The most notable of these is the Old Fort Museum in Johannesburg, whose exhibits include "466/64 - Prisoner in the Garden," a reference to Nelson Mandela as the 466th prisoner admitted to Robben Island in 1964. This last category offers the best opportunity for what Welch describes as the "Foucauldian view" that prison museums have the capacity to improve those who visit them by "promoting introspection and civility."
Ultimately, however, Welch concludes that penal tourism can hardly be viewed as cathartic. Inasmuch as prison museums prompt visitors to reflect on punishment past and present, most visitors, he argues, are likely to leave exhibits pondering the postmodern futility - and inhumanity - of imprisonment. What both penal tourism and other forms of dark tourisms do offer people, Welch and others conclude, is "safe contact with forbidden spaces." Some argue that the rise in popularity of dark tourism is directly related to a decreasing proximity to the experience of death in Western society, and that our need as a species to come vicariously close to death helps us to appreciate our own mortality.
--Christine Toomey, The London Times Literary Supplement
Prisons make up an uncomfortable, often ugly, part of the human heritage, yet people are drawn to gaze upon the punishment of others. Welch presents penal tourism with a "critical eye on the cultural pull of punishment," offering comparative case studies of ten prisons-turned-museums across the globe. Drawing from years of travel and research, the author borrows ideas from many fields, including psychology, sociology, and museum studies, although much of his focus is on philosophical theory. Leaning heavily on Foucault's and Lacan's ideas of the gaze Welch attempts to explore reasons behind the rise in prison tourism specifically and dark tourism in general. The book's importance lies in its contribution to dark tourism theory and its exploration of the human drive to gaze not just at prisons, prisoners, and implements of punishment but also at the darkness of human suffering. Recommended.
--R. Price, University of Pittsburgh, CHOICE connect